W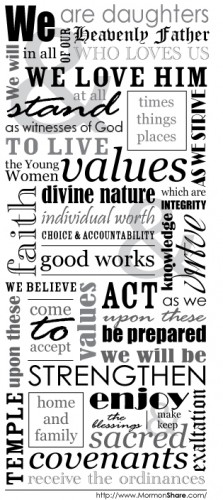 hen you ask about the Young Women Theme, you may be talking about the theme that young women recite each Sunday, or you may be talking about the young women mutual theme.  This article is about the young women theme that is recited each Sunday.
The theme provides a foundation for helping each young woman accomplish the objectives of the Young Women Organization of the Church of Jesus Christ of Latter-day Saints. Girls and their adult leaders repeat the young women theme at the beginning of Sunday meetings and at other  gatherings. The theme says:
Young Women Theme
WE ARE DAUGHTERS of our Heavenly Father, who loves us, and we love Him. WE WILL "STAND as witnesses of God at all times and in all things, and in all places" (Mosiah 18:9) as we strive to live the Young Women values, which are

Faith,
Divine Nature,
Individual Worth,
Knowledge,
Choice and Accountability,
Good Works,
Integrity,
and Virtue.

WE BELIEVE as we come to accept and act upon these values, WE WILL BE PREPARED to strengthen home and family, make and keep sacred covenants, receive the ordinances of the temple, and enjoy the blessings of exaltation.
History of the Young Women Theme
1987 – Ardeth G. Kapp introduced the young women theme.
2002 – The words "strengthen home and family" were added to the theme by Margaret D. Nadauld.
2008 –  The new value virtue was added to the theme by Elaine S. Dalton.
Young Women Theme Poster
Download a fun young women theme poster below: 2014 Primary Teacher/Presidency binder covers. and classroom door signs 2012 Mutual Theme Clip Art for YW Young Women Subway Art – Larger Young Women Theme – Sign Young Women's Theme – BookmarksYoung Women Poster Set in GoldYoung Women Theme Subway Art postersYoung Women Theme Subway Art – B&W...