Idea from the 2011 Sharing Time Outline
IDENTIFY THE DOCTRINE
(memorizing an Article of Faith): Divide the children into groups and give each group a phrase from the third Article of Faith. Have each group stand, in the correct order, and repeat their phrase. Then have the entire Primary stand and repeat the whole Article of Faith.
ENCOURAGE UNDERSTANDING
(seeing an object lesson): Testify that one way the Atonement of Jesus Christ saves us is that it saves us from sin. Show the children a clear glass of water and explain that it represents a person who is free from sin. Drop a small amount of food coloring in the water. Point out how the food coloring spreads throughout the water and makes it no longer clean. Explain that when we sin, we become unclean, like this water. Then add a few drops of liquid bleach to make the water clean again. Explain that when we repent, the Atonement cleanses us from sin and we are forgiven. Show a picture of Christ in Gethsemane. Let the children share what they know about the picture. Testify of Jesus Christ's love for us and of His willingness to pay the price for our sins.
ENCOURAGE APPLICATION
(discussing repentance): Using some of the teaching methods modeled here, teach the children about repentance, which includes feeling sorry, asking for forgiveness, righting the wrong, and not repeating the wrong (Primary 3, 46-49).
Ideas from Little LDS Ideas
This month we will only be attending our Ward 2 out of the 4 Sundays (General Conference & Stake Conference). So we decided to focus on the Atonement and the Resurrection. This last Sunday I did Sharing Time and focused on The Atonement. Here is what I did:
This post has been shortened to protect the work of the original author. Click on the link below to finish reading this article at it's orginating website:
Through the Atonement of Christ all mankind may be Saved: Sharing Time Idea for 3rd week of April
About the Source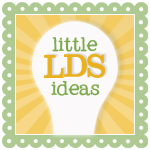 This fantastic idea is from Sheena Perron's blog, http://LittleLDSIdeas.blogspot.com/. Sheena currently focuses on LDS Primary related ideas. Thank you for sharing your ideas, Sheena!